In person: Jesse Lerner, Sara Harris -- Los Angeles Premiere
Tickets: $12 general, $8 students/seniors, free for Filmforum members at https://link.dice.fm/C0da148031a9  
The Fragmentations Only Mean … is an audiovisual landscape of the Noah Purifoy Outdoor Museum, located in the California high desert.  In 1986 Noah Purifoy (1917- 2004) retired from his position of many years on the California Arts Council and moved to a remote desert site north of Joshua Tree National Park, where, over the last eighteen years of his life, he created an ambitious series of over a hundred assemblage sculptures which sprawl over acres of the harsh, arid land, and address issues of North American history, race relations, social justice, contemporary philosophy, and human interactions with and impact upon the environment.
Jesse Lerner is a filmmaker based in Los Angeles. His films have won numerous prizes at film festivals in the United States, Latin America, and Japan, and have screened at New York's Museum of Modern Art, Mexico's Museo Nacional de Antropología, Washington's National Gallery, Madrid's Reina Sofíá, and the Sundance, Rotterdam and Los Angeles Film Festivals. His films were featured in mid-career surveys at New York's Anthology Film Archives, Washington's National Gallery, and Mexico's Cineteca Nacional. He has curated projects for the Mexico's Palacio Nacional de Bellas Artes, the Guggenheim Museums in New York and Bilbao, and the Robert Flaherty Seminar.  His books include F is for Phony (2000, with Alexandra Juhasz), The Shock of Modernity (2007), The Maya of Modernism: Art, Architecture, and Film (2011), Ismo, Ismo, Ismo: Experimental Cinema in Latin America (2017, with Luciano Piazza), L.A. Collects L.A. (2017, with Rubén Ortiz Torres), and The Catherwood Project (2017, with Leandro Katz).
Sara Harris is an audio artist and public radio journalist with 20 years of experience in Los Angeles, Mexico, and the Netherlands.  She has produced and reported award-winning work for Youth Radio, Marketplace, and PRX.  Her most recent radio endeavors include the gallery installation and design of Radio Regeneración, the broadcast component of Regeneración: Three Generations of Revolutionary Ideology, currently on display at the Vincent Price Art Museum, podcasting and audio journaling workshops in Los Angeles County Juvenile Detention facilities with Arts for Incarcerated Youth Network, The Sounds of Cesar Chavez, an audio documentary following Cesar Chavez Avenue through Boyle Heights (in conjunction with City of Los Angeles Great Streets Initiative), and Hear in the City: Radio Realities from the Urban Landscape (KPFK 90.7FM in Los Angeles).  Harris is the director and co-founder of a local non-profit dedicated to environmental stewardship and community engagement and brings a strong commitment to issues of urban land-use, education, and social and environmental equality to the audio conversation.  Her radio stories have been featured on Marketplace, All Things Considered, Morning Edition, The World, and Living on Earth. A co-founder of the urban sound-mapping projects RadioSonideros and Audiopostales, Harris's sound installations have been featured at the Museo de las Culturas Populares in Mexico City and on WNYC's Studio 360, The Next Big Thing and Mexico's IMER national network.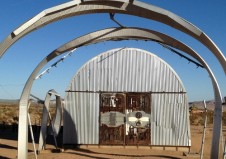 The Fragmentations Only Mean …
A documentary film by Jesse Lerner and Sara Harris
72 minutes, 2021, DCP. Los Angeles Premiere
Featuring Yael Lipschultz, R. Judson Powell, Sue A. Welsh, Frances Valesco, Joseph S. Lewis III, Adrien Jenik, Al Murdy, Pat Brunty, John H. Baker
Dates:
Sunday, February 19, 2023 - 19:30