Balagan presents... DIY Dystopia
Thursday March 14, 2013 19:30h
Brattle Theatre, 40 Brattle Street in Cambridge, MA USA
With the natural world teetering on the brink of multilateral catastrophe, a group of analog filmmakers have taken matters into their own hands. Through direct contact with the medium – lifting and reassembling images on the film strip – adhering waste matter to celluloid – leaving emulsion to languish in the landfill – the artists interpret physical processes that ravage our land. Their grave methods yield results of unexpected poetry, vibrancy and beauty.
Attendees of this show will also receive a special, locally-produced, collaborative zine, made available through the Papercut Zine Library!
Programme:
WWII (work-in-progress) (Douglas Urbank, 2012, 16mm with live sound 7 minutes)
Using found footage of World War II and salvaged architectural supplies, Boston-based filmmaker Douglas Urbank offers a haunting look at one of the darkest times in human history. This exhibition of the film will be accompanied by a live soundtrack performed by experimental musicians "Duck That."
Landfill 16 (Jennifer Reeves, 2011, 16mm sound, 9 minutes)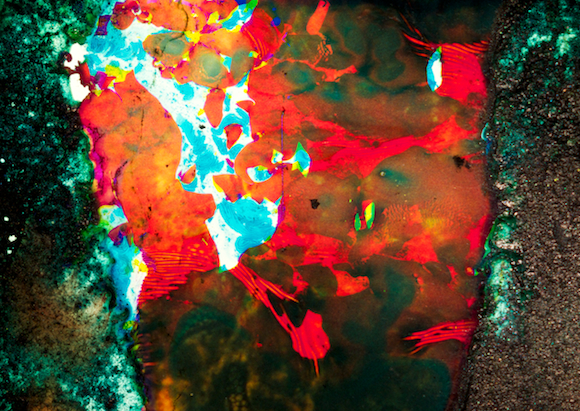 Exhumed motionpictures from my very own Elkhart, Indiana, landfill constitute the canvas of this obsessively hand-painted film. This is my anti-landfill film, an attempt to transform my 16mm out-takes/trash into a meditation on nature's losing battle to decompose our discarded relics of abandoned technologies and productions. (JR)
Buffalo Lifts (Christina Battle, 2004, 16mm silent, 3 minutes)
A yellow and black and green daydream of the buffalo herd as it travels across a stretch of broken emulsion. … This is a rumination on the fragility of these powerful masses in flight. And would it be too much to remark, in the midst of so much loping towards extinction, that this could be a metaphor for chemical-based movies? Is this the last graze of an analog touch, the pictures moved by hand, driven, corralled and penned into a digital corner? Allow one last flourish before these flickering shards will be part of someone else's nostalgia. Memorial dirge, a travel without destination, a funerary rite. (Mike Hoolboom, 2007)
Oil Wells: Sturgeon Road & 97th Street (Christina Battle, 2002, 16mm sound, 3 minutes)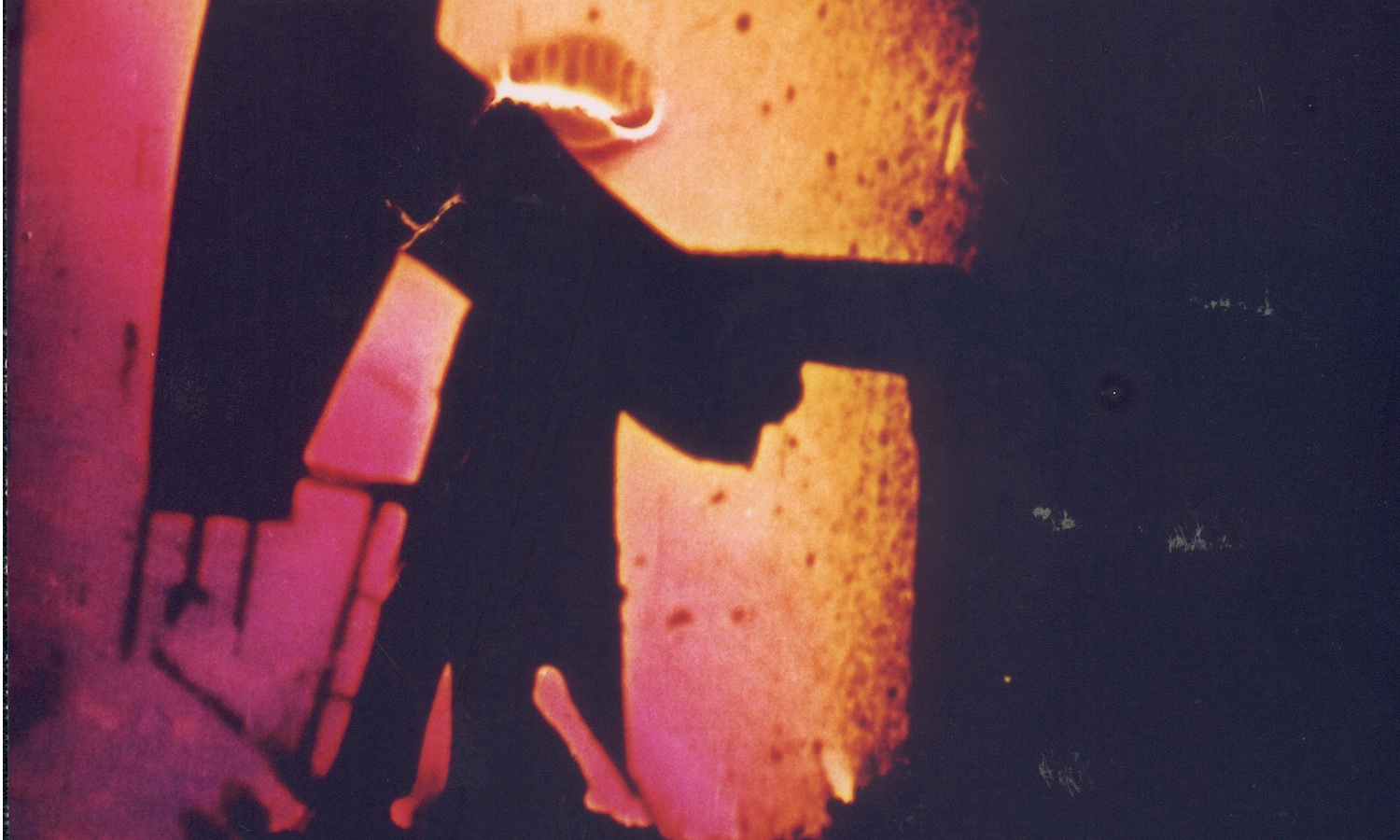 Shot in the artist's home province in Alberta, the mechanical rising and falling of an oil well is subject to a suite of rephotography applications (recoloured, superimposed, speed changes). Views of far and near are juxtaposed. Theme and variations, not with a piano, but an oil derrick on a prairie field, rising and falling.(Mike Hoolboom, 2007)
Transaension (Dan Baker, 2006, 16mm sound, 6 minutes)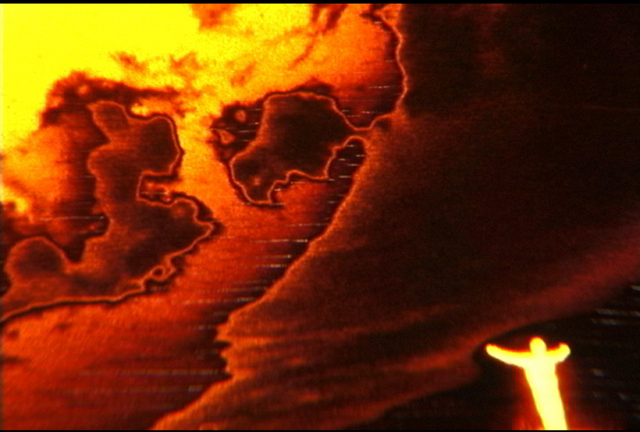 Using rephotographed and hand-processed footage of mysterious origins, the film descends into the fiery pit of fossil fuel extraction…
The Dante Quartet (Stan Brakhage, 1987, 16mm silent, 8 minutes)
"... And suddenly I realize it's in my eyes all the time, that I have a vision of Hell, I have even more necessary kind of a way of getting out of Hell, kind of a springboard in my thinking, closing my eyes and thinking what I'm seeing ... and also purgation, that I can go through the stages of purging the self, of trying to become pure, free of these ghastly visions, and then there is something that's as close to Heaven as I would hope to aspire to, which I call "existence is song." And that all of that was in my eyes all the time, backfiring all these years ... It's lovely that I can have the language, but I also have a visual corollary of it, but that is a story." (SB)
Ah, Liberty! (Ben Rivers, 2008, anamorphic 16mm sound,  20 minutes)
A family's place in the wilderness - living, working, playing on a farm throughout the seasons; free-range animals and children, junk and nature, all within the most sublime landscape. The work aims at a sense of freedom, the scale of which is reflected in the hand-processed Scope format. There's no particular story; beginning, middle or end, just fragments of lives lived. (LUX)
If you like this program, please help us by donating to our Kickstarter. All money the series takes in goes to paying the filmmakers, renting prints, and keeping our venue (the Brattle Theatre) running. We, the curators, work for free to bring you awesome events.