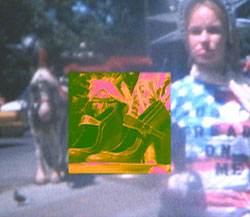 Personal Cinema Series - Lili White
Saturday, June 5th 2010, 20-22h
Millennium Film Workshop
66 East 4th Street, New York, USA
This program features several new works made by Lili White since her last program at Millennium in 2007.
"My thing was always a layered image. In 2008, concurrent fractured frames of video tape were explored. In 2009, different public places, along with their historic and mythic events blended into a collective dreamscape. The idea was to evince the 'whole' of 'it,' like how ALL the facets form a diamond and is fueled more on a 'why' rather than a 'how.' The work is located more on the 'horizontal'–not necessarily one that is linear–but one that stretches out in different directions, like the tentacles of an octopus." - L.W.
On The future is you: "Like a lithographer's velvety mezzotint, this monochromic future of molten metal features New York City's downtown streets after the 9/11 disaster. 'Seemingly' among city and forest, the landscape study moves back and forth between Nature's trees and man's canyons of steel, showing neither but both. A chromium sound heard–doubled and abstracted–accompanying anxiety and serenity inside us. Exploring the gradient view the focus is on small movement like amoebas in a primordial soup; eventually stretching our attention to the larger matrix where we all reside." - L.W.
Program:
- Reverie (20½ min., 2009)
- Cracked (3½ min., 2008)
- The future is you (9 min., 2008)
- S/tr:w/eet walk (19 min., 2009)
- Turquoise beads (38 min., 2009)
Admission: $8 / $6 members