Sunday, May 22, 2022, 7:30pm
At 2220 Arts + Archives, 2220 W. Beverly Blvd., Los Angeles CA
Artists in person: Charlotte Pryce, Courtney Hoskins, Cherlyn Hsing-Hsin Liu, and Andrew Kim.
Tickets: $12 general, $8 students/seniors, free for Filmforum members
At https://link.dice.fm/H8c70e4a57d9 
Film as a medium is itself a strange, organic, and chemical material miraculously capable of phenomenological expression, of temporally complex and unfolding explorations in sound and vision.  Despite being experienced primarily as an intangible, ephemeral performance, a film's image and sound are created by the exposure of light onto a photosensitive compound, altering its composition to create a material life form which is then activated even further to give manifestation to an artistic vision.

Perhaps conscious of the potential for film to be considered as a sort of animated organism, some artists have been inspired to use the medium of 16mm for the purposes of considering the eccentric formations of life, and the actual and metaphorical implications of biogenesis and its related processes.  The incredible fact of life and its origins are embedded deeply in the metaphorical capability of the film medium itself, as a semi-animate object which is brought to life first through chemistry, and again through its animation into motion and sound on a film projector.

This program will celebrate the unique union between the medium of 16mm film and its use by various artists to consider the origins of life itself, albeit on the weirder end of the biological spectrum.  Transformations of matter and spirit will be on display, as we traverse a wildly unpredictable biogenetical spectrum which includes everything from insects to slime molds and lunar bodies to microscopic crystals (solid and liquid), with the vivid materiality and magical illusionism of film as the thematic and physical chain that holds everything together (figuratively and literally).

Program and notes by Mark Toscano.  All films courtesy of the filmmakers.  Crystals was restored by the Academy Film Archive.
All films screening on 16mm).  Total = 73m
Prima Materia
by Charlotte Pryce, 2015, 16mm, color, silent, 3m
Aura-Corona
By Sky David, 1974, 16mm, color, sound, 4m
Europa (from The Galilean Satellites series)
By Courtney Hoskins, 2003, 16mm, color, sound, 7.5m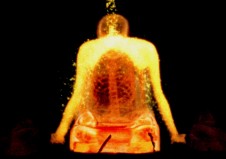 A Study of Fly 飛的修羅場
By Cherlyn Hsing-Hsin Liu, 2018, 16mm, color, sound, 13m
Instant Life
By Juan David Gonzalez Monroy, Anja Dornieden, and Andrew Kim, 2022, 16mm, color, sound, 27m
LA premiere!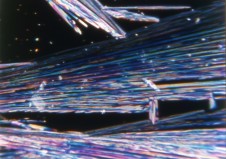 Crystals
By Elwood Decker, 1951, 16mm, color, silent, 2.5m
Babobilicons
By Daina Krumins, 1982, 16mm, color, sound, 16m
Dates:
Sunday, May 22, 2022 - 19:30